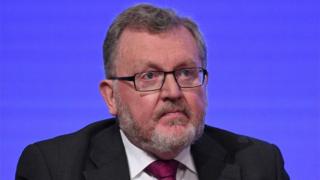 Scottish Secretary David Mundell has raised concerns with the prime minister over the timing of the UK's departure from the Common Fisheries Policy.
Theresa May has said the Brexit transition period could be extended "for a few months" if needed.
A source close to Mr Mundell said he wants "assurances any extension to the transition would not delay exit from CFP beyond the agreed date".
Mr Mundell is understood to regard to the idea as "vague" and "unexplored".
The current plan is for a transition period of 21 months to smooth the path from Brexit to the UK and EU's future permanent relationship.
But with the two sides so far failing to reach a deal after an EU summit of all its leaders this week, Mrs May said this arrangement could be extended "for a few months", if needed.
The UK is due to leave the EU on 29 March 2019.
During the transition period, which is due to finish on 31 December 2020, the UK's relationship with the EU will stay largely the same.
EU Brexit negotiator Michel Barnier told France Inter radio on Friday that "90% of the accord on the table has been agreed with Britain" but added: "I'm convinced a deal is necessary, I'm still not sure we'll get one."
Resignation threat
Earlier this week, Mr Mundell denied that he had threatened to resign over the prime minister's Brexit plan.
It had been reported that both he and Scottish Conservative leader Ruth Davidson told the prime minister that they could not support any different arrangements for Northern Ireland.
They said this would "undermine the integrity" of the UK.
But in an interview with the BBC, the Scottish Secretary insisted it was not a threat to quit.
Mr Mundell told the BBC: "I haven't threatened to resign.
"What I've said is that I regard the integrity of the United Kingdom as absolutely essential in these negotiations.
"We're not going to prejudice the integrity of our United Kingdom and I'm very pleased – as you would see in yesterday's statement – that the prime minister is absolutely behind that."


Source BBC News