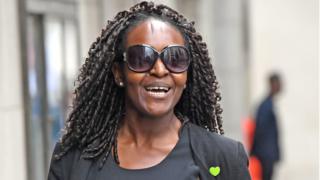 A Labour MP accused of plotting to avoid a speeding prosecution said she was overwhelmed by "thousands" of emails when she first started her job.
Peterborough MP Fiona Onasanya said a Russian man was behind the wheel when her car was clocked doing 41mph in a 30mph zone, the Old Bailey has heard.
Giving evidence, Ms Onasanya said the "leap" into Westminster politics was "a bit like a freshers' fair".
The 35-year-old denies one count of perverting the course of justice.
The trained solicitor, who had been elected in Peterborough about a month before the incident in July last year, discussed her hectic rise through politics, joining a select committee four weeks after the general election.
"It was massive. It was more a leap than a step. I didn't have an expectation because I did not have any idea what it would be like," said Ms Onasanya.
"It was a little bit like being asked if you can swim and you say 'Yes, I can get by, I can swim', and then you get thrown in the ocean, it's not comparable."
The court heard that in July last year she had about 5,000 unanswered emails in her inbox.
The MP, who was later promoted to the shadow whips office, also said, that at the time of the incident, she was unaware that her brother had nine points on his licence and had previously been disqualified for drink-driving.
The court has heard Ms Onasanya was sent a Notice of Intended Prosecution (NIP) after her car was clocked in Thorney, near Peterborough, at 22:03 BST on 24 July.
She returned the paperwork naming the driver as Aleks Antipow, a previous tenant of a property the siblings rented out in Cambridge.
The jury heard Mr Antipow was in Russia at the time and had never driven the MP's car.
On 5 November, Mr Onasanya, 33, of Chesterton, Cambridge, pleaded guilty at the Old Bailey to three counts of perverting the course of justice.
The trial continues.


Source BBC News