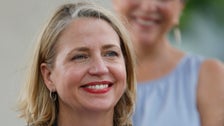 Unlike hundreds of newspapers across the country that endorsed Hillary Clinton over Donald Trump in 2016 ― many of them with conservative editorial boards breaking ranks ― Florida's Naples Daily News, which endorsed Mitt Romney in 2012, chose to offer no endorsement at all in the 2016 presidential race. 
But in 2018, after endorsing South Florida stalwart and eight-term GOP Rep. Mario Diaz-Balart in previous elections, the Collier County paper endorsed Democrat Mary Barzee Flores to represent Florida's 25th Congressional District, which stretches from the western suburbs of Miami to eastern Naples. A "promising new leader," the paper urged, was needed for Congress to "change its ways of not getting important problems solved."
Change is what Barzee Flores has been promising to deliver on a variety of issues on which Diaz-Balart has voted uniformly with the GOP and President Donald Trump. A former judge who was nominated to the federal bench by President Barack Obama ― then blocked by Sen. Marco Rubio, under pressure by GOP leaders, after he recommended her for the job ― Barzee Flores hopes a blue wave carries her to Washington.
Florida's 25th is among the districts nationwide that Democrats are targeting in the Democratic Congressional Campaign Committee's Red to Blue program. Hillary Clinton lost the district by only 1.5 percentage points in the 2016 presidential election.
"He hasn't had a real challenger in a decade," Barzee Flores said of the incumbent congressman in an interview recently aired on SiriusXMProgress. "He is for the first time having to answer for his atrocious voting record. He voted to repeal, without replacement, the Affordable Care Act 18 times. Nearly 300,000 people in the district he allegedly represents would have lost access to health care when you include people with pre-existing conditions." 
"This district includes the city of Hialeah, which is the No. 1 city for Affordable Care sign-up," Barzee Flores noted. "So this guy isn't acting in the best interests of his constituents on guns, the environment or even immigration."
Though Diaz-Balart isn't as vulnerable as other South Florida GOP House members, the race is tighter than expected. He's among the Florida House members who have taken the most money from the NRA this cycle, including after the Parkland school shooting — something he was slammed for by gunshot survivor and former Rep. Gabby Giffords (D-Ariz.).
That and intense, powerful social media criticism from David Hogg and other Parkland survivors has put Diaz-Balart on the defensive.
It's an issue Barzee Flores has been hitting him on hard, and she'll no doubt focus in on it more intensely in the closing days of the campaign, after this weekend's Pittsburgh synagogue mass shooting.




Source HuffPost