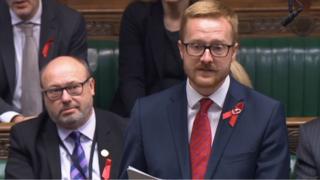 An MP has revealed he is HIV positive during a House of Commons debate on public health.
Lloyd Russell-Moyle, the Labour MP for Brighton Kemptown, is the first MP to reveal his HIV status in the Commons and the second to disclose he is living with the condition.
He said he felt compelled to speak out about an issue which had affected him personally.
Mr Russell-Moyle urged ministers to review cuts to sexual health budgets.
He told the Commons that next year would mark his 10th anniversary of becoming HIV positive.
"It's been a long journey, from the fear to acceptance, and from today advocacy, knowing my treatment keeps me healthy and that it protects any partner I have," Mr Russell-Moyle said.
He added: "I finally wanted to be able to stand in this place and tell all those out there living with HIV, that their status does not define them."
Ian Green, chief executive of sexual health charity the Terrence Higgins Trust, said the MP had "done everybody a service".
He said Mr Russell-Moyle's announcement "does a lot to normalise HIV in the public's mind" and would help tackle the stigma associated with the virus.
In 2005, Labour MP Chris Smith revealed to a newspaper he had been HIV positive for 17 years.


Source BBC News