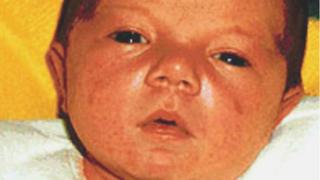 Three funerals had to be held for a baby girl killed by her father after police twice found they had retained body parts, it has emerged.
The family of Leah Aldridge had "no confidence" in Greater Manchester Police after some of her remains were found for the second time, Bolton West MP Chris Green told Parliament.
Leah, from Atherton, near Manchester, died aged five weeks old in 2002.
Mr Green asked the prime minister to launch a public inquiry.
Speaking at Prime Minister's Questions he said: "[Leah's family] have no confidence in Greater Manchester Police or the police and crime commissioner, the mayor of Greater Manchester [Andy Burnham], that they now have finally allowed the family to lay their daughter Leah to rest."
Leah, who had a cold and was not sleeping, was shaken to death by her father Andrew Ashurst.
She died in hospital on Christmas Day in 2002 and Ashurst was jailed for manslaughter in 2004.
Her body was initially returned to her family for a funeral but in 2017 the police discovered they had returned some of Leah's body parts.
These were returned to the family for a second funeral.
"Only a few weeks ago yet more body parts were discovered by the police and the family had to go through the ordeal of a third funeral," Mr Green told the house.
Theresa May said it was an "absolutely terrible case" and expressed her sympathies to Leah's family for their "prolonged trauma".
She said she understood the deputy mayor of Greater Manchester had been in touch with the Human Tissue Authority about the case to evaluate what went wrong.
'Deeply distressing'
"Officials in the Home Office will meet both the Greater Manchester police and the National Police Chiefs' Council to further address the issue of historically held human tissue. I will ensure that the relevant Home Office Minister updates my honourable friend on the outcome of those meetings," she said.
A spokesman from the mayor's office said it was a "tragic and deeply distressing matter".
He said the mayor was contacted about the case in August and has discussed it with the deputy mayor and the chief constable, and has written to Leah's family to offer his full support.
"This is being treated with the upmost seriousness and the mayor and deputy mayor's firm focus continues to be supporting the family until they get the answers they need," he said.
Greater Manchester Police has been approached for comment.


Source BBC News