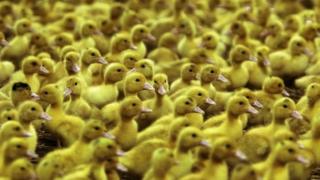 Labour has failed in an attempt to use Brexit-related farming legislation to ban imports of foie gras into the UK.
An amendment to the Agriculture Bill by MP David Drew, which would have ended all imports of the product made by force-feeding ducks and geese, was defeated at committee stage.
Mr Drew told the BBC that the "writing was on the wall" for foie gras imports, whose production is banned in the UK.
Environment Secretary Michael Gove has reportedly been considering a ban.
In February, sources close to Mr Gove told the Times that he was "looking closely at banning foie gras and restricting live animal exports".
British farmers have been banned from producing foie gras – meaning fatty liver – on cruelty grounds since 2000.
But restaurants and shops are allowed to import the product, regarded as a gastronomic delicacy by manufacturers and some consumers, under EU free-market rules.
The UK imports 180 to 200 tonnes each year, almost exclusively from France.
Mr Drew said Brexit provided the UK with the ideal opportunity to stop the trade, which can involve animals as young as 12 weeks being force-fed to fatten their livers.
His attempt to use the Agriculture Bill, a proposed new law designed to prepare the farming industry for the UK's departure from the EU, to legislate for a ban was defeated on party lines.
The Conservatives have a majority on the public bill committee now scrutinising the legislation.
"I am not surprised that the government did not want to accept it," Mr Drew said. "(Tory) MPs see the writing on the wall but they won't do it at this moment."
The shadow environment minister vowed to keep the pressure up on the government.
Ministers have said that after Brexit, the UK will theoretically be able to restrict sales of certain products once it is no longer bound by EU freedom of movement rules relating to goods.
Environment Minister George Eustice told MPs in June that India had become the first country to introduce an "ethical ban" on foie gras under World Trade Organization rules.


Source BBC News