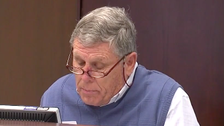 A Kansas county official has tendered his resignation amid backlash over remarks he made to a black city planner about a "master race" at a public meeting earlier this month.
Leavenworth County Commissioner Louis Klemp announced his resignation would take effect at 9 a.m. CT on Tuesday in a letter addressed to Leavenworth County Clerk Janet Klasinski and obtained by HuffPost.
"It is with great sorrow that I am submitting this letter to the community that I love and have been a part of for more than 80 years," Klemp wrote in the letter. 
He continued: "In order to maintain focus and prioritize the needs of the county I have made a decision to resign. I regret my recent comment made during a Leavenworth County Commission meeting and for the negative backlash to the community."
Kansas officials, including Gov. Jeff Colyer (R), called on Klemp to resign following his controversial remarks at the public meeting.
Klemp, who is white, appeared to have expressed disapproval over a presentation given by the woman, a city planner, moments before making the off-the-cuff comment.
"I don't want to think I'm picking on you, because we're part of the master race," Klemp told the woman as he motioned to his teeth. "You know you've got a gap in your teeth. You're the master race. Don't ever forget that."
In his letter of resignation, Klemp denied that his comments were racially motivated.
"My attempts at identifying a similarity (space between our teeth) with a presenter were well-meaning but misinterpreted by some," he wrote.
This is a developing story. Check back for updates.




Source HuffPost