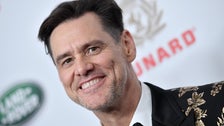 Actor and comedian Jim Carrey usually saves his political musings for Twitter or his latest painting. This weekend, though, he voiced his views while accepting the Charlie Chaplin Award for Excellence in Comedy from the British Academy of Film and Television Arts in Los Angeles on Friday night.
"I'm glad it didn't come in the mail," Carrey joked about his award statue, referencing the recent slew of bombs sent in the mail to high-profile targets of President Donald Trump. "Maybe a little soon? It is my job to try. Yes, I no longer have packages delivered to my home in the great America that has been fashioned in the last couple of years."
Much to the audience's delight, Carrey then went full bore into a poignant, impassioned speech about the current political system.
"Almost half of America at this moment believes there is a sinister deep state diabolically plotting … to what?" Carrey asked. "Give them health care?"
He praised his comedy hero, actor Charlie Chaplin, for the ingenious, subversive political commentary in his films.
With "Modern Times," he criticized capitalism without a conscience, and that's what we have now: capitalism without a conscience. He showed the common man being fed through years of brutal dehumanizing industrial age. He took on the American right wing of its day and its worst evils: hatred of immigrants, contempt of the truth, greed, and the abuse of power. We are fighting those same evils today.
Carrey went on to dedicate his award to people he believed to be true heroes ― a term the comedian says has been warped by reality TV ― Chaplin, former British intelligence officer Christopher Steele, professor Christine Blasey Ford and former NFL quarterback Colin Kaepernick.
"He'll stand for the anthem when the anthem stands for him," Carrey said of Kaepernick.
"Make no mistake, these terrorists were encouraged and emboldened by the hate speech of Donald Trump," Carrey tweeted. "If you can't see the clear menace of this man's influence by now then you are a part of it."




Source HuffPost