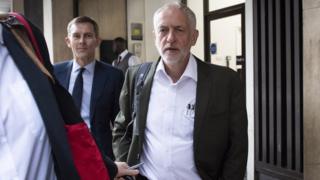 Jeremy Corbyn says his party must "turn our fire outwards", promising MPs Labour will remain a "broad church".
Several MPs who have criticised the leader have faced pressure from their constituency parties, and Mr Corbyn has recently been urged by one, Chuka Umunna, to "call off the dogs".
Speaking to the Parliamentary Labour Party, Mr Corbyn said there would always be differences of opinion.
Canterbury MP Rosie Duffield is facing a motion of censure by her local party.
She is the latest Labour MP to face a vote of no-confidence by party members.
A spokesman for Jeremy Corbyn said it was "not his place" to get involved in the "democratic practices of different parts of the Labour Party".
Last week Labour activists passed no-confidence votes against the Friends of Israel chairwoman Joan Ryan, Luton South MP Gavin Shuker and Nottingham East MP Chris Leslie.
The motion against Ms Duffield will be put to a vote of members on Thursday.
It criticises Ms Duffield – who won the seat for Labour last year – for her recent comments about Labour's anti-Semitism row, and singles out her attendance at a demonstration at Westminster in March.
Several Labour MPs rallied in support of Ms Duffield after the censure motion was revealed.
Mr Corbyn told MPs on Monday night: "The Labour Party has always been a broad church and I'm determined it remains so.
"We will always have some differences of opinion and we must protect the right of criticism and debate but our first and overwhelming priority is to deliver for the people we represent and remove this Conservative government from office.
"We must focus on that priority and turn our fire outwards."
On the confidence votes in local parties, a spokesman for Mr Corbyn said he had told MPs that "it is not his place to be involved in the democratic practices of different parts of the Labour Party", the Press Association reported.
He added: "He was making the point that everybody is subject to democratic accountability. It's not his role to interfere with that.
"But obviously these things have to be conducted properly and thoroughly and without abuse and Jeremy reiterated… that our politics is conducted with respect and without abuse of any kind."




Source BBC News