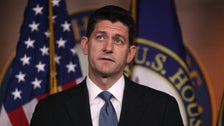 "Since being signed into law in 1994, VAWA has helped to protect and support millions of Americans who have faced domestic violence, dating violence, sexual assault, and stalking," reads a letter sent Friday to Ryan and McCarthy, signed by 46 House Republicans. 
"This landmark legislation has drastically improved our nation's response to these crimes and has contributed to the overall declining rates of domestic abuse since its enactment," the letter continued. "However, instances of violence are still very common."
The letter was spearheaded by Rep. John Katko (R-N.Y.) and signed by other moderate Republicans including Reps. Elise Stefanik (N.Y.), Rodney Davis (Iowa), Jeff Denham (Calif.) and Barbara Comstock (Va.). The members urged leadership to take quick action because there are only seven legislative days remaining before VAWA expires. 
VAWA, the first federal legislation to recognize and address domestic violence as a serious crime, was created with the help of then-Sen. Joe Biden (D) and signed into law by President Bill Clinton. The legislation has been reauthorized three times over the past two decades with bipartisan support. 
As the letter states, programs under VAWA protect people of all genders and provide integral support to domestic violence and sexual assault survivors.
"This is not a partisan issue," the letter concluded. "VAWA has been continually reauthorized on a bipartisan basis in Congress. We must act now to maintain and strengthen this critical law."
Katko reiterated his support for VAWA in a Monday statement, calling the landmark legislation a "bipartisan priority." 
"I have been, and will continue to be, a strong supporter of funding initiatives to assist victims of sexual assault and domestic violence," Katko said. "We must work across the aisle to reauthorize this important measure so we can continue to save lives, protect children, and prevent future victims of domestic and sexual violence."
The National Task Force to End Sexual and Domestic Violence issued a statement Monday commending the House on its bipartisan efforts. 
"We applaud the spirit of bipartisanship reflected in this letter and the recognition of the great strides we have made in combating domestic violence, sexual assault, dating violence, and stalking in this country, due in large part to the Violence Against Women Act," the statement reads. "We also applaud the commitment of the signatories to a VAWA reauthorization that makes meaningful improvements to ensure all victims and survivors have access to the safety, security, and services they need and deserve."




Source HuffPost