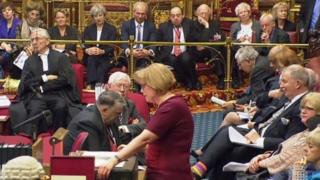 The House of Lords is shrinking and faster than expected, according to the committee looking at ways to reduce its size.
The Lords is the world's second largest legislative body after China's People's Congress – currently with 792 peers.
A report last year suggested it should be reduced and capped at 600 members to end its "ever-upward trajectory".
It suggested 31 peers a year should be persuaded to retire although the figure could change to take account of deaths.
In fact, 21 peers retired and 15 died – a total of 36 – between 8 June 2017 and 7 June 2018.
The House of Lords, most of whose members are appointed, scrutinises and revises government legislation, but its critics say it has become bloated.
A report by former civil servant Lord Burns last year recommended a "two-out, one-in" system to bring numbers down over the next decade or so.
It envisaged 150 peers departing between 2017 and 2022, taking into account deaths and voluntary retirements, with this number increasing to 250 between 2022 and 2027.
During that period, only 200 new peerages would be approved, reducing the total size of the House to 600.
In its second report on the issue, the Lord Speaker's Committee on the Size of the House, said the report's proposals were being implemented and that "even more members left the House in the first year of the scheme than we envisaged".
The report said the figures were "encouraging" and noted that the three biggest groups – the Conservatives, Labour and cross-benchers, had "exceeded their annual benchmark for departures".
'Legacy issue'
In terms of new arrivals, the committee counted 12 new appointments to date – three Conservatives and nine cross-benchers. But it did not include the 13 new peers announced in May 2018, a decision it acknowledged "some members will disagree with".
The prime minister had said those appointments were "a legacy issue arising from the general election" – and the committee agreed, because they had been "drawn up before our proposals were published" and were essentially a "delayed dissolution list".
If those appointments, which included nine Tories and three Labour peers, were included – the total number more than doubled to 25 – a net reduction of nine overall.
In her letter to the committee, the prime minister said she intended "to continue with the restraint which I have exercised to date and, when making appointments, to allocate them fairly, bearing in mind the results of the last general election and the leadership shown by each party in terms of retirements".
The report said: "We urge the House and the government to build on the progress made to date, thereby establishing the mutual trust which is so central to the success of our proposals."


Source BBC News