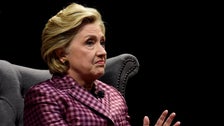 "What was done last night in the White House was a political rally," the former secretary of state told CNN's Christiane Amanpour in an interview published Tuesday. 
"It further undermined the image and integrity of the court. And that troubles me greatly," Clinton continued. "It saddens me, because our judicial system has been viewed as one of the main pillars of our constitutional government."
Clinton added that Trump's comments are "true to form," coming from a man who has been accused of sexual misconduct by over 20 women, and who continually attacks and smears survivors of sexual assault.   
"He has insulted, attacked, demeaned women throughout the campaign, really for many years leading up to the campaign, and he has continued to do that inside the White House," she said.  
Clinton last week expressed support for Christine Blasey Ford, who testified in front of the Senate Judiciary Committee that Kavanaugh sexually assaulted her when the two were in high school. Clinton called Ford's emotional testimony "very credible," adding: "Why would anybody put themselves through this if they did not believe that they had important information?"
Kavanaugh, during his Judiciary Committee testimony, ranted that the allegations against him were "revenge, on behalf of" Clinton and her husband, the former president.




Source HuffPost