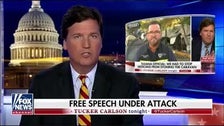 Fox News' Tucker Carlson is rapidly losing advertisers amid a controversy over his recent comments on his show regarding immigrants.
On "Tucker Carlson Tonight" last week, the host suggested that immigrants are making the United States "dirtier." 
"We have a moral obligation to admit the world's poor, they tell us, even if it makes our own country poorer and dirtier and more divided," he said, before criticizing immigrants with his take on the Emma Lazarus poem at the base of the Statue of Liberty. "Huddled masses yearning to breathe free? Nope, cynical shakedown artists who have been watching too much CNN."
Carlson only doubled down on that rhetoric on his show on Monday night.
"The left says we have a moral obligation to admit the world's poor. Even if it makes our own country more like Tijuana is now, which is to say poorer and dirtier and more divided," he said.
"That's what we said. It's true. … But precisely because it is so obviously true, saying it out loud is a threat."
Thus far, at least eight advertisers have announced that they've broken ties with or are in the process of breaking ties with Carlson.
Here is a running list of those advertisers:
1) Pacific Life
Life insurer Pacific Life tweeted on Friday that it strongly disagrees with Carlson's comments and would stop advertising on his show "as we re-evaluate our relationship with his program."
2) Bowflex
On Monday a spokesperson for Bowflex said in a statement to HuffPost, "We can confirm that Nautilus, Inc., parent company for Bowflex, has pulled its ads from the Tucker Carlson Tonight show. We buy media broadly across many news networks, and do not target ads based on specific programs or hosts. However, we have requested that Fox News remove our ads from airing in conjunction with Tucker Carlson Tonight in the future. Aside from our decision to remove our ads from his show, we have no other association or affiliation with Mr. Carlson."
3) Indeed
"As a company, we are nonpartisan ― our site is for everyone, regardless of background or beliefs," Indeed said in a statement. "Indeed has not advertised on the Tucker Carlson Tonight program in over a month, and has no plans to do so in the future.
4) Minted
Online design marketplace Minted tweeted a statement on Monday night, saying that it does not agree with Carlson's comments, as they are "not consistent with the values we hold at Minted."
5) NerdWallet
NerdWallet said in a statement to NBC News that it "pulled its advertising and will be reevaluating any ongoing advertising on this program."
6) SmileDirectClub
A spokesperson for SmileDirectClub told HuffPost that it is "actively working with our media buyers to confirm that SmileDirectClub is no longer running our ads around any political opinion shows."
7) Voya Financial
The retirement company tweeted on Tuesday that it has "no scheduled spots on Tucker Carlson" and is "committed to diversity, inclusion and equality — and respect for all individuals."
8) Ancestry.com
A spokesperson for the genealogy website, which advertised twice on Carlson's Friday night show, told HuffPost, "We stopped all advertising as of yesterday morning."
9) Land Rover
Jaguar Land Rover North America told The Hollywood Reporter on Tuesday: "Jaguar Land Rover has rarely advertised on the show and does not have any plans for it going forward."




Source HuffPost