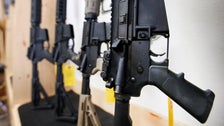 One of the nation's largest gun suppliers has donated nine semi-automatic AR-15 rifles to school resources officers in Bismarck, North Dakota, helping police in the state's capital fulfill a request for additional firepower to protect students.
In August, the Bismarck Police Department submitted a budget proposal that included nearly $26,000 to purchase new rifles, gun safes, bulletproof vests and medical kits to treat gunshot wounds. The cost was supposed to be split evenly between the school district and police department, but the county said it wouldn't pay for the AR-15s themselves, according to The Bismarck Tribune.
Iowa-based Brownells offered its support late last month. The rifles, which are supposed to be stored in locked safes at the schools, have already been delivered to the department, the Tribune reported.
There are six school resource officers with the Bismarck Police Department. Although they had previously been equipped with handguns, officials began discussing the idea of providing them with higher-powered weaponry in the wake of the February school shooting in Parkland, Florida. A lieutenant with the department noted in August that rifles might be necessary if officers had to neutralize a threat at longer range. Some county leaders also backed the request for new firearms.
Along with the nine AR-15s, Brownells also donated thousands of dollars worth of gun parts and accessories, all for a total value of $8,650, the company told the Des Moines Register. Brownells has given away products to law enforcement in the past, a company spokesman told the Tribune.
If as a nation our best plan is having trained police officers win gunfights on school grounds with semi-automatic assault rifles, that is not a good strategy for public safety.
David Chipman, senior policy adviser at the Giffords Law Center to Prevent Gun Violence
With the rifles provided free of charge, the police department was able to spend more on medical kits, which has allowed it to purchase equipment that can serve additional shooting victims, Bismarck Police Deputy Chief Jason Stugelmeyer told the Tribune.
A spokesman for the police department didn't respond to HuffPost's request for additional information on how the rifles would be secured in schools.
The Parkland massacre has sparked a contentious debate about school safety and the best ways to prevent shootings. Some have insisted on the need for ramping up security by stationing additional police officers on campuses, which critics say is an ineffective solution that will only exacerbate the school-to-prison pipeline. President Donald Trump and others have also come out in favor of arming teachers, drawing pushback from law enforcement groups and educational organizations.
Gun safety groups have by and large rejected any call to put more guns in schools, arguing that it's a shortsighted approach that could lead to unintended consequences.
In light of recent active shooter events involving semi-automatic rifles, it makes sense that police departments would want to be equipped for the worst case scenario, said David Chipman, senior policy adviser at the Giffords Law Center to Prevent Gun Violence and former special agent at the Bureau of Alcohol, Tobacco, Firearms and Explosives. But turning to these sorts of solutions without addressing the question of access to guns is effectively accepting an "arms race" approach to the problem, he added.
"If as a nation our best plan is having trained police officers win gunfights on school grounds with semi-automatic assault rifles, that is not a good strategy for public safety," said Chipman. "To me, that's a strategy of last resort."
In a statement to HuffPost, Avery Gardiner, co-president at the Brady Campaign to Prevent Gun Violence, called Bismarck's move to arm school resource officers with AR-15s "ludicrous, moronic, and at best, naive."
"That the school is ordering medical kits to treat gunshot wounds at the same time it is getting AR-15s shows ― quite obviously ― that the school recognizes that bystanders get shot when there are AR-15s in schools, and yet they're going ahead with this stupendously asinine plan," she said. "If I had school-aged kids in Bismarck, I would move."




Source HuffPost