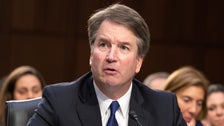 The Louisiana Republican, who serves on the Senate Judiciary Committee, which is tasked with evaluating Supreme Court nominees, claimed that he and colleagues are unable to properly investigate the allegation because the woman requested anonymity and declined to press the matter further.
"I don't know what our Democratic friends expect us to do," Kennedy said on "Fox News Sunday." "We got a letter, it's secret. We don't know who wrote it. Who are we going to cross-examine? [California Sen. Dianne] Feinstein? I mean give me a break."
Feinstein, the senior Democrat on the committee, said Thursday she had received a letter from the woman detailing her concerns about Kavanaugh after President Donald Trump initially nominated him to the post in July. The woman alleged that he forced himself on her at a party while they were both in high school. Kavanaugh issued a statement "categorically" denying the allegation last week.
Feinstein said she referred the letter to the FBI. The bureau issued a statement Thursday confirming it had received Feinstein's referral and included it in Judge Kavanaugh's background file, which every senator is able to view. 
Sources close to Feinstein told HuffPost on Friday that the senator was acting out of concern for the privacy of the woman when she referred the matter to federal investigators. The New Yorker also reported that the California Democrat "conveyed to other Democratic members' offices that the incident was too distant in the past to merit public discussion, and that Feinstein had 'taken care of it.'" 
In a separate interview on Sunday, Sen. Thom Tillis (R-N.C.), another member of on the committee, said he would review the contents of the woman's letter. The North Carolina Republican questioned, however, why it never came up during the open or closed portion of Kavanaugh's confirmation hearing earlier this month.
"It really raises a question in my mind about ― if this was material to the confirmation process, why on earth over the past four to six weeks hasn't it been discussed among the committee members?" Tillis said on CBS' "Face the Nation." 
Sen. Dick Durbin (D-Ill.), the No. 2 Democrat in the Senate, meanwhile, tweeted that the Me Too movement has "taught us" to "respect and listen to survivors of sexual assault, regardless of the age of those involved or when the alleged attack took place."
The Illinois senator on Saturday called for the Senate to delay a confirmation vote on Kavanaugh's nomination so it can thoroughly investigate the woman's allegation.




Source HuffPost