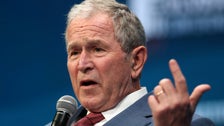 Former president George W. Bush is headlining fundraisers for GOP candidates facing tough challenges ahead of the midterm elections. He won't, however, be appearing on behalf of his home state Texas senator Ted Cruz, notes The Dallas Morning News.
A spokesman for Bush told the newspaper that the other campaign appearances "work with our schedule."
But it's no secret Bush is not a big fan of Cruz, who served as domestic policy adviser for Bush's 2000 presidential race and is now facing a tough battle against Democratic Rep. Beto O'Rourke.
Bush said of Cruz at a GOP fundraising event in late 2015: "I just don't like the guy," several donors on scene told Politico. Cruz was running at the time against Bush's brother, Jeb Bush, for the GOP presidential nomination.
"The tenor of what he said about the other candidates was really pretty pleasant," one witness told Politico. "Until he got to Cruz."
During a radio interview in Lubbock, Cruz was asked about about Bush campaigning with him.
Bush headlined a fundraiser Friday for Florida Gov. Rick Scott, who is running for Senate. He's also scheduled for events for North Dakota Senate candidate Kevin Cramer, Missouri Senate candidate Josh Hawley, and Senate candidate Mike Braun of Indiana, Politico reported last week.
Bush is also appearing for his own Texas GOP congressman Pete Sessions next week, and turned out last week for GOP Rep. Will Hurd who's running to retain his West Texas seat.
"While he prefers to consider himself retired from politics, he recognizes how important it is to keep the Senate and decided to help a few key candidates," said his spokesman Freddy Ford.




Source HuffPost