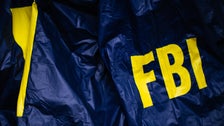 An organization of current and former FBI agents has lashed out at character "attacks" and "demeaning comments" a day after President Donald Trump complained about a "lingering stench" at the agency during a campaign rally.
"Attacks on our character and demeaning comments … will not deter agents" from continuing to protect the American people, said a tweet from the FBI Agents Association, a nongovernmental organization which says it represents 14,000 current and former agents.
On Friday Trump vowed at a rally in Missouri to "get rid of" the "lingering stench" at the Justice Department and the FBI.
"Just look at what is now being exposed in our Department of Justice and the FBI. Look at what's going on. You have some real bad ones. You see what's happening at the FBI — they're all gone, they're all gone, they're all gone," he said.
"But there's a lingering stench, and we're going to get rid of that, too," he added.
Trump was referring in part to a New York Times article Friday citing unnamed sources that said Deputy Attorney General Rod Rosenstein suggested last year secretly recording Trump. He also talked about recruiting Cabinet members to invoke the 25th Amendment to oust Trump as unfit for office, according to the Times. Rosenstein denied the story.
The tweet Saturday by the FBI group linked to an earlier statement on its website issued late last year after Trump said the FBI's reputation was in "tatters."
"The true story of the FBI cannot be reduced to partisan talking points," the statement said at the time. "Special Agents are focused on the Constitution and protecting the public. Their work should be recognized, not denigrated."
Association president Tom O'Connor recently appeared to slap at Trump after he told the Hill in an interview published Wednesday that he aimed to expose the "cancer" of the investigation by Special Counsel Robert Mueller into Russian interference in the presidential election.
O'Connor issued a statement the same day calling for more attention to federal agents whose health was harmed in the World Trade Center attacks.
"Let's talk about real cancer —cancers that have killed 15 FBI heroes who responded to the 9/11 terrorist attacks with more falling sick each year," he said.




Source HuffPost