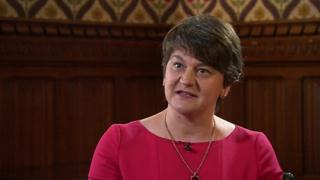 The DUP will not support a Brexit deal which could lead to any new checks on goods coming into NI from elsewhere in the UK, its leader has emphasised.
"We cannot have either a customs border or a regulatory border down the Irish Sea," said Arlene Foster. "That would make us separate from the UK."
There has been speculation the UK could agree to regulatory checks at Irish Sea ports as part of a backstop deal.
Both sides have agreed the need for a backstop but not how it should operate.
It would apply if the Irish border cannot be kept as frictionless as it is now in the context of a wider deal.
The EU has proposed a backstop that would mean Northern Ireland staying in the EU customs union, large parts of the single market and the EU VAT system.
The UK government has rejected it as a threat to the integrity of the UK and suggested a backstop that would see the UK as a whole remaining aligned with the EU customs union for a limited time after 2020.
It has not yet brought forward plans about how to deal with regulatory issues – EU single market rules on food, agriculture and other manufactured goods.
NI secretary Karen Bradley told the Conservative Party Conference the government would "never ever allow a border down the Irish Sea".
Mrs Foster said her party would not accept customs or regulatory checks in the Irish Sea as a means of breaking the Brexit deadlock.
"It's been very clear all along that has been our one red line," she told Bloomberg. "That doesn't work from a constitutional perspective."
In recent months the EU chief negotiator Michel Barnier has talked about "de-dramatising" the backstop.
It is understood he believes any new physical checks could be limited to food products coming into NI from the rest of the UK.
Arlene Foster said the Brexit process was reaching a "crunch time" and her party was speaking to the government on an ongoing basis.
Theresa May relies on the DUP's support to give her a majority in Parliament.
Sinn Féin leader Mary Lou McDonald has called on the Irish Government to "protect" the Good Friday Agreement saying Mrs Foster's comments were "reckless".
The Good Friday agreement was "not a chip to be bargained with as part of the Tory-DUP deal", she said.




Source BBC News