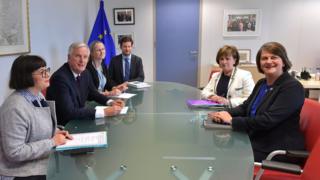 The Democratic Unionist Party's 10 Westminster MPs are planning to vote down the Budget later this month if they are unhappy about the government's Brexit plans, the BBC understands.
Theresa May relies on DUP support in key votes because she does not have a majority in the House of Commons.
But the DUP could abandon this deal if Brexit means new barriers between Northern Ireland and Great Britain, Newsnight's Nick Watt said.
The Budget takes place on 29 October.
If the DUP voted against it the government would face possible defeat, which could lead to a no-confidence vote.
The prime minister has rejected the EU's plans for any new checks between Great Britain and Northern Ireland as part of an attempt to avoid a hard border on the island of Ireland.
But senior DUP sources fear that Downing Street may yet agree to some form of regulatory checks as talks between the UK and EU continue.


Source BBC News