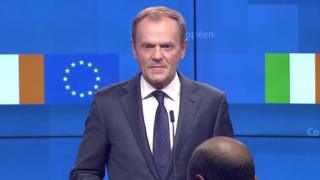 Foreign Secretary Jeremy Hunt's jibe likening the EU to the Soviet Union was "as unwise as it is insulting", the president of the European Council says.
In a statement alongside Irish PM Leo Varadkar, Donald Tusk called for "respect", saying as someone who spent half his life in the Soviet bloc: "I know what I am talking about".
Asked if Mr Hunt should resign, he replied: "That's not my problem."
The foreign secretary made the comments at the Tory conference on Sunday.
Addressing delegates in Birmingham, he accused the EU of seeking to punish the UK in order to "keep the club together".
His speech recalled a visit to Latvia earlier this summer and the role that the UK and others played in helping it transition from Soviet rule to becoming a modern democracy and market economy.
"What happened to the confidence and ideals of the European dream?" he asked. "The EU was set up to protect freedom. It was the Soviet Union that stopped people leaving."
He has since faced calls to apologise from several EU ambassadors.
At a press briefing in Brussels, Mr Tusk – the former prime minister of Poland – said: "In respecting our partners, we expect the same in return.
"Comparing the EU to the Soviet Union is as unwise as it is insulting.
"The Soviet Union was about prisons and gulags, borders and walls, violence against citizens and neighbours.
"The European Union is about freedom and human rights, prosperity and peace, life without fear, it is about democracy and pluralism – a continent without internal borders and walls.
"As the President of the European Council and someone who spent half his life in the Soviet bloc, I know what I am talking about."


Source BBC News