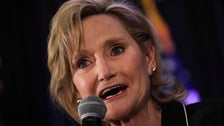 Rooting for gender equality is complicated. Just look at what's happened in the U.S. Senate.
It's not even halfway to equality, but it certainly seems like a win for anyone who is rooting for female representation in politics.
The problem is, Hyde-Smith is nearly impossible to root for if you actually care about gender equality.
And if you oppose racism and white supremacy, she's totally off the table, having distinguished herself in her run for Senate by making a racist joke about a public hanging and coming out in support of voter suppression. These remarks would have been offensive on their own but were doubly deplorable considering the context ― she was running against a black man, Mike Espy, in a state haunted by lynchings, Jim Crow and slavery.
Hyde-Smith highlights a never-ending tension undergirding the feminist project and the fight for women to gain real power in the United States. To clumsily paraphrase George Orwell, some gender equality is more equal than others.
"As more and more women are elected, the odds of some of them embracing offensive principles and positions increases as well. It's simple math," Jennifer Lawless, a politics professor at the University of Virginia, told HuffPost. "Hyde-Smith embodies the fact that female Republicans with abhorrent racist views are just as electable as GOP men who espouse those positions."
This was easy to forget in the recent election cycle since so many progressive and diverse Democratic women won seats in the House. Of the record 126 women who will serve in the coming Congress, only 20 are Republican.
"We tend to tout the diverse backgrounds that female candidates came from this cycle. Because the overwhelming majority of them are Democrats, we haven't spent that much time talking about ideological diversity," Lawless said.
Generally speaking, good things do happen when there are more women in power ― including lower rates of sexual harassment. Having more women leaders also offers a powerful statement about what a leader can look like. And of course, bottom line, it would be nice if the legislative body that represents all Americans was actually representative of all Americans.
But, aside from demonstrating that a woman from Mississippi can win an election, Hyde-Smith is likely to do little to further gender equality. Instead, it's likely she'll resume her project of reversing progress for women ― right along with the rest of her party.
After all, she's firmly on team Trump. He came down to Mississippi to stump for her this month. Presumably, she's on board with his administration's policy of caging and tear-gassing migrant children, demonizing immigrants, and narrowing women's rights and LGBTQ rights. She's never spoken up about any of his myriad misogynistic comments.
Hyde-Smith is the kind of powerful woman who deals with sexism by laughing it off. During the campaign, a video of her surfaced in which she retells some of the horrid sexist jokes she heard when she was the state's commissioner of agriculture. She was explaining that there were a lot of men uncomfortable with a woman in that role, but she retells the jokes without comment. 
The wry smile she wields while retelling gags about a guy angling to get his wife shot or preferring his dog to his spouse is all too familiar ― the look of a woman who deals with sexism by just going along with it. What can you do, she seems to be asking. Isn't it a hoot?
See for yourself, the joking starts around minute 9.
Hyde-Smith never spoke out publicly about Brett Kavanaugh, even though some of her female Republican colleagues in the Senate expressed reservations about his nomination to the Supreme Court after sexual assault allegations surfaced. 
In fact, Hyde-Smith sat placidly behind Republican Susan Collins in October, as the senator from Maine delivered a widely criticized speech trying to justify her vote to confirm the now-Supreme Court justice.
Her role in that instance was as a token, a demonstration that women can often support a man accused of the worst kind of behavior. 




Source HuffPost