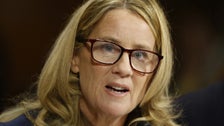 "As the Senate debates the nomination of Brett Kavanaugh, numerous false claims have been repeated to undermine the credibility of Dr. Christine Blasey Ford," her lawyers said in a statement to HuffPost.
"Whatever the outcome, Senators deserve to know the truth:
An FBI investigation that did not include interviews of Dr. Ford and Judge Kavanaugh is not a meaningful investigation in any sense of the word."
"We believe Christine Blasey Ford and we fully support her," they concluded. "Senators claiming to want a dignified debate should not repeat lies constructed by the Judiciary Committee that were cynically designed to win support for Judge Kavanaugh."
Kavanaugh is set to be confirmed Saturday, after several weeks of defending himself against Ford and other women's accusations of sexual assault and misconduct. Sens. Susan Collins (R-Maine), Jeff Flake (R-Ariz.) and Joe Manchin (D-W.Va.) all announced Friday they would support Kavanaugh, giving him the 51 votes necessary for confirmation.
The FBI did not question Ford about the incident in an investigation requested by several senators on the Senate Judiciary Committee, including Sen. Jeff Flake (R-Ariz.), who said he'd only help advance Kavanaugh in a procedural vote if the bureau further examined Ford's accusations. On Thursday, Ford's lawyers called the FBI investigation "a stain on the process, on the FBI and on our American ideal of justice."
President Donald Trump, who nominated Kavanaugh to replace retiring Justice Anthony Kennedy in July, stood by his pick throughout the confirmation process, labeling Ford's accusations "false" and arguing that she was part of a Democratic "con job."
This is a developing story. Please check back for updates.




Source HuffPost