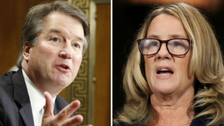 The preliminary ratings considered viewers who tuned in anytime between 10 a.m. and 6:45 p.m. The ratings do not include radio or internet streams, meaning the total number of viewing households is likely higher.
People in Metro Atlanta are listening as Dr. Christine Blasey Ford testifies before a Senate committee. Judge Brett Kavanaugh will testify next. pic.twitter.com/p6CMvaH2C9

— Richard Elliot (@RElliotWSB) September 27, 2018
Across the world, people are watching the Kavanaugh-Ford hearing. That includes passengers on planes cruising at 35,000 feet.

Zette Emmons tells CNN this is her view aboard a JetBlue flight 415 from New York's John F. Kennedy International Airport to San Francisco. pic.twitter.com/pvlXawcbJn

— Bridget Blake (@BridgetBlake1) September 27, 2018
NBC, ABC and CBS aired the hearings live, along with most cable news channels. CNN said Thursday was its biggest day so far in 2018 for digital video, and CBS News said the hearing drew in the largest-ever number of live streams for its digital channel, CBSN.
Some, like NBC's Megyn Kelly, said "most Americans" were not watching the hearings. But the ratings show many people were indeed very interested.




Source HuffPost