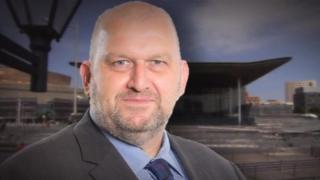 Wales' first minister warned Carl Sargeant to "be careful" over conduct and drinking after an anonymous letter said he was "not fit to be around women", an inquest has heard.
Mr Sargeant, 49, died on 7 November 2017, four days after Carwyn Jones dismissed him as communities minister.
The Labour AM had been accused of behaving inappropriately towards women, which he had denied.
The inquest heard "tangible" complaints were made weeks before he died.
Mr Sargeant's body had been found hanging at his home in Connah's Quay, Flintshire, by his wife Bernadette.
He had left a letter apologising to his family and telling them: "I have failed you." The letter continued: "You deserve none of this publicity 'cause of my acts."
Speaking at the inquest in Ruthin, Denbighshire, on Wednesday, Mr Jones said he had received an anonymous letter in 2014 from someone in Mr Sargeant's Alyn and Deeside constituency.
"I remember the words 'he's not fit to be around women,' but the letter was anonymous. I showed it to Carl," he told the inquest.
Mr Jones said he told Mr Sargeant in 2014: "You need to know… be careful, there's obviously someone who's watching you."
The first minister also told him: "Be careful how you conduct yourself and how much you drink."
Mr Jones said Mr Sargeant "wasn't an alcoholic," but the company he kept were "quite a hard-drinking bunch".
He told coroner John Gittins the pair had known each other since 2001 and had "never had a cross word" and this remained the case to the end of his life.
Mr Jones did not know Mr Sargeant suffered from depression or had taken anti-depressants, the inquest heard.
'Rumours are plentiful. Evidence is rare'
Asked when he first became aware of rumours about Mr Sargeant's conduct, he said: "Rumours are plentiful in politics. Evidence is rare."
He did not know what the rumours were but became aware of them on 18 October 2017, the day he held a meeting with senior advisors to discuss the cabinet reshuffle.
He wanted to see "evidence not rumours". Asked what had changed, he said: "The catalyst was the fact we had names. Once the names were known there was, in my mind, an obligation to look further."
He insisted there had to be something in writing, which later came from one of two complainants who had made allegations about Mr Sargeant to the Labour party in October, dating from an event in summer 2017.
"At that point it was important to protect the anonymity of those complainants," Mr Jones said.
Pushed by the coroner why he had not spoken to Mr Sargeant, he said: "Had I given him more details in terms of the allegations… he'd have known straight away, I suspect, who those people were and that was a risk I couldn't take."
Tweet after dismissal
Discussing a tweet Mr Sargeant sent out on the afternoon after he was sacked, the coroner suggested Mr Sargeant had told the truth when he said he was being removed because of his personal conduct.
Mr Jones said: "There was no need to volunteer the information… there was a gentler way of doing it".
The first minister spoke of a "feeling of dread going in that morning… I had lost sleep over it," but it "had to be done".
He said he did not tell Mr Sargeant the details of the complaint because he "couldn't", but did say police were not involved.
Mr Sargeant's response was "curious", as he had said he "did not recognise" the allegations. "In politics, that's not a denial," Mr Jones said.
He was not tearful and was "a little panicked but not distraught". Asked if his reaction raised alarm bells, Mr Jones said: "There was no reason to doubt that he understood the implications."
He advised him to speak to his trade union for advice and "keep your head down". After Mr Sargeant had tweeted, however, the Welsh Government had to "firefight".
"The press would speculate. Twitter is corrosive," he said.
'Incidents' v 'allegations'
The inquest heard audio of Mr Jones speaking on a BBC Wales news broadcast on 6 November, the day before Mr Sargeant died.
In it, Mr Jones used the words "incidents". The coroner asked him if he saw the difference between that and the word "allegations".
He replied no, saying: "It's quite clear from that news report that the news report is about allegations."
Mr Jones had said the reshuffle had happened on a Friday as Mr Sargeant had been away and if it was held mid-week he would not have had the support of his family on hand.
Leslie Thomas QC, representing the Sargeant family, asked Mr Jones about being told by Mr Sargeant in 2014 of a life event he had experienced, and whether it could leave some people feeling vulnerable, which Mr Jones agreed it could.
The barrister questioned why it was necessary to draw Mr Sargeant's attention to the anonymous letter sent in 2014. Mr Jones felt it was right to let him know, as the letter had also been sent to Mrs Sargeant.
He had not spoken to Mr Sargeant about a complaint from 2016 because "the complainant didn't want me to".
The inquest heard Anne Jones AM had been arranged to act in a liaison role between the Labour group and Mr Sargeant, and secondly in a pastoral role.
Mr Jones told Mr Thomas this had happened on the afternoon following Mr Sargeant's dismissal, adding it was not just "political issues" Mr Jones wanted Mr Sargeant to be able to raise.
Ms Jones "wanted to make sure that Carl was okay from a personal level as well," he said.
'Tittle-tattle'
Mr Jones earlier told the inquest he had planned to hold a reshuffle in November 2017 because he was in discussions with an AM who had left his party, as well as wanting to offer new opportunities to others.
But during the course of the discussions he had received the written "complaints" about Mr Sargeant. Prior to that Mr Jones had characterised rumours about Mr Sargeant as "tittle-tattle, according to evidence from one of his special advisors.
Mr Jones said following the written allegations, which came just days before the reshuffle on 3 November: "They could not be ignored as part of the reshuffle process."
Mr Sargeant, who was being considered for the role of leader of the house, was sacked that day.
Mr Jones confirmed as first minister it was "wholly" his responsibility who was appointed or moved and he had "complete discretion" over the cabinet.
Timings
Earlier, Mr Jones' senior special advisor Matthew Greenough was recalled to the inquest to clarify some of the evidence he gave on Tuesday, which had given details around the timings of allegations made against Mr Sargeant.
The "tangible" complaints referred to alleged incidents made by women known in court as Miss A and Miss B and had happened in the summer of 2017.
These were reported via the Labour Party to Mr Jones in October 2017. One of two women involved later made a written statement.
There had previously been two separate allegations in 2016, although one was in the form of an anonymous letter.
Under questioning, Mr Greenough agreed one allegation by a woman known as Miss C could have been made in 2015 but he did now know about it until 2016.
He told the court that when the reshuffle where Mr Sargeant lost his job took place he was present in the room when Mr Jones spoke to every other minister apart from one.
Asked by Mr Gittins whether any information was mentioned regarding any of the women, Mr Greenough said: "Not in my presence."
He told the Sargeant family's counsel Leslie Thomas QC he did not believe Mr Jones could have had a conversation with anyone without him knowing.
Deciding factor
Special advisor Jane Runeckles said discussions about the reshuffle had begun in the summer of 2017 between her, "Matt and the first minister".
Speaking about a meeting on 18 October 2017, she confirmed there were "rumours" about Mr Sargeant. However, Mr Sargeant was still in consideration for leader of the house, the inquest heard.
The coroner said he struggled to understand how that might still be the case, to which she replied: "The first minister was absolutely clear at that point that it was tittle-tattle. He had nothing to suggest otherwise."
The reshuffle had been motivated by a commitment Mr Jones had made to bring one particular AM into government and because he felt some people had not been given opportunities under previous governments, she told the inquest.
But Mr Sargeant's sacking was precipitated by Mr Greenough receiving the written statement from one complainant on 1 November.
Mr Gittins said: "That was the deciding factor in terms of his removal from office. Would you agree?"
Ms Runeckles replied "yes", adding it would have been difficult to postpone a reshuffle.
The coroner continued: "What we have here is a scenario…. 'I know Carl's going, and he's got to go, let's get on with it'… not a picture of 'there is now a process to follow in relation to these allegations being investigated… no-one's taking a deep breath here'."
No support offered
Mr Sargeant's brother Andy asked whether Ms Runeckles did anything to support him, and she said "no", explaining: "The whim of the electorate is something [politicians] subject themselves to… you go into it knowing that this kind of thing can happen to you."
Mr Thomas repeatedly questioned Ms Runeckles over the 18 October meeting and any discussion of the rumours around Mr Sargeant, particularly in light of the #MeToo movement and "political fallout" in Westminster as a result.
She told the court she did not enquire where the rumours had come from and said they were "not relevant", which Mr Thomas challenged. She agreed she could have spoken to Mr Sargeant about the matter, but did not.
Leslie Thomas QC asked if the reshuffle was "just a convenient way of trying to mask" the situation surrounding Mr Sargeant.
"Absolutely not," she replied.
Information and advice
If you or someone you know is struggling with issues raised by this story, find support through BBC Action Line .


Source BBC News