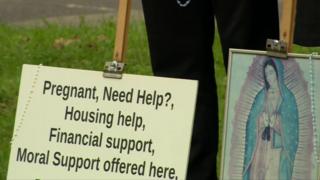 Calls for buffer zones to be introduced outside abortion clinics to stop patients being harassed have been rejected by the home secretary.
Sajid Javid said such protest-free areas around UK clinics "would not be a proportionate response".
He said a Home Office review found cases of harassment and damaging behaviour but they were "not the norm".
His predecessor, Amber Rudd, has said it was "unacceptable" that anyone should feel intimidated at a clinic.
In a statement, Mr Javid said the review had gathered evidence that showed protesters' behaviour had left patients distressed and caused some to rebook their appointments and not to follow medical advice.
He said that in some of these cases, protesters handed out model foetuses, displayed graphic images, followed people, blocked their paths and even assaulted them.
However, he added that the review showed these activities were "not the norm" and most anti-abortion activities were "more passive", such as praying, displaying banners and handing out leaflets.
In 2017, 363 hospitals and clinics in England and Wales carried out abortions – 36 of which experienced anti-abortion demonstrations, according to the review.
Mr Javid said: "Having considered the evidence of the review, I have therefore reached the conclusion that introducing national buffer zones would not be a proportionate response, considering the experiences of the majority of hospitals and clinics, and considering that the majority of activities are more passive in nature."


Source BBC News