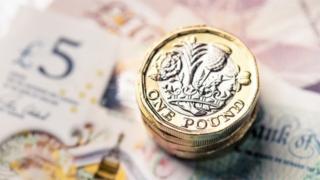 Chancellor Philip Hammond has used the Budget to ease the government spending squeeze as he declared that austerity was "finally coming to an end".
Against a backdrop of stronger tax receipts, Mr Hammond said borrowing this year would be £11.6bn lower than projected in March, at £25.5bn.
Borrowing is expected to keep falling over the next five years.
Mr Hammond said day-to-day spending budgets were now expected to grow by around 1.2% a year from 2019.
This is up from an average contraction of 1.3% in the last Spending Review in 2015.
The government's independent fiscal watchdog left its forecasts for economic growth broadly unchanged.
The Office for Budget Responsibility (OBR) said the UK economy was expected to grow by 1.3% in 2018.
While this is slightly lower than the 1.5% growth predicted in March, economic growth is expected to rise to 1.6% in 2019, up from a previous projection of 1.3%.
Mr Hammond said wages were currently growing at their fastest pace in a decade.
Britain's unemployment rate is now expected to fall to a fresh four-decade low of 3.7% next year.
Healthier public finances are expected to keep Britain's debt share falling over the next five years, helping the government to meet two key fiscal rules.
Mr Hammond also signalled that a good Brexit agreement would enable the Treasury to spend a "double deal dividend".
He said the economy would receive a boost from the end to uncertainty over Britain's future relationship with the EU, and a good deal with the EU would also free up money set aside to protect the economy in the event of no deal.


Source BBC News