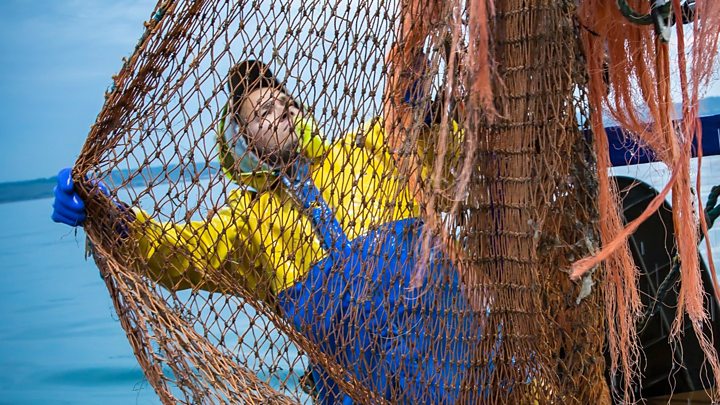 The UK will get a "fairer share" of fishing stocks after Brexit, ministers have promised.
The government is publishing its Fisheries Bill which will determine how its stocks are managed after the UK leaves the EU.
At the moment, quotas are assigned to each EU member state, with limits on species.
The UK says it gets a bad deal under these current arrangements, known as the Common Fisheries Policy.
In 2014, half of UK fish production was exported to the EU, a quarter to outside the EU and a quarter was consumed domestically.
Under new arrangements, the UK will still take part in annual negotiations, but will control access to a 200 nautical mile "exclusive economic zone" around its coastline.
Fisheries Minister George Eustice told the BBC other countries were "heavily dependent" on fish in UK waters, with boats from elsewhere in the EU accounting for nearly 60% of fish caught in British waters.
"We don't get a fair share at the moment," he added.
The "price of continued access" would be a new sharing method "based on where fish reside", he said.
The UK is leaving the EU on 29 March 2019, which will be followed by a transition period due to run until the end of 2020.
There were protests earlier this year when it was revealed the UK would continue to be bound by the Common Fisheries Policy during the transition period – and recently Theresa May said the UK could have the option of extending this phase if necessary.
This has led to concern – including from Scottish Tory MPs – that the UK could be bound by EU fishing rules for longer.
Scottish Secretary David Mundell has described leaving the CFP in December 2020 as "essential".
'Respect devolution'
Asked for a guarantee on leaving the CFP, Mr Eustice told the BBC: "We are certainly not committed to an extension of the implementation period", but added the government was "not ruling anything out either".
One of the key parts of Brexit negotiations will be coming up with a new way for the UK and the EU to trade together – and there have been warnings about the impact of new export tariffs on the fishing industry.
The EU has said a trade deal between the two sides should be linked to access to each other's waters for fishing, a position the UK has rejected.
Mr Eustice said trade and fishing access were "two separate things".
The Scottish Government has called on the UK government to "respect the devolved settlement" and wants full powers transferred over all fishing policy after Brexit.


Source BBC News