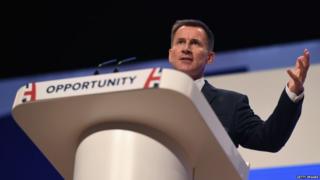 Three serving EU ambassadors to London have publicly criticised UK Foreign Secretary Jeremy Hunt for comparing the European Union to the Soviet Union.
Mr Hunt told the Conservative Party conference on Sunday the EU was acting like the USSR in trying to prevent any members leaving the bloc.
The diplomats said the comparison was wrong and insulting to those who had lived through years of Soviet rule.
But UKIP leader Nigel Farage said Mr Hunt was "using my language".
Relations between the UK and the EU are on edge after European leaders publicly criticised Theresa May's plan for future co-operation after Brexit at a summit in Austria last month.
British ministers have accused the EU of not showing the UK due respect after the PM's plans were mocked on social media during the Salzburg meeting.
Now Mr Hunt has seemingly provoked a diplomatic row after accusing the EU of seeking to punish the UK in order to "keep the club together".
'European dream'
In Sunday's speech, he recalled a visit to Latvia earlier this summer and the role that the UK and others played in helping it transition from Soviet rule to becoming a modern democracy and market economy.
"What happened to the confidence and ideals of the European dream?" he asked. "The EU was set up to protect freedom. It was the Soviet Union that stopped people leaving."
In response, Baiba Braze, the Latvian ambassador to the UK, said the comparison was misguided as the Soviets "killed, deported, exiled and imprisoned 100 thousands of Latvia's inhabitants after the illegal occupation in 1940, and ruined lives of 3 generations, while the EU has brought prosperity, equality, growth, respect".
Her Estonian counterpart, Tiina Intelmann, also joined in the criticism, tweeting:
The Swedish ambassador Torbjorn Sohlstrom said the UK rightly deserved respect but the comments were wide of the mark while leading MEP Guy Verhofstadt said they were "offensive and outrageous".
The remarks have also raised eyebrows among former senior British diplomats.
Lord Ricketts, who led the Foreign Office between 2006 and 2010, said the only punishment that the UK would suffer from Brexit was "self-inflicted".
"This rubbish is unworthy of a British foreign secretary," he said. "The EU isn't a Soviet-style prison. Its legal order has brought peace and prosperity after a century of war."
And his successor, Sir Simon Fraser, suggested it was a "shocking failure of judgement" by Mr Hunt, who succeeded Boris Johnson in the role in July.
A European Commission spokesman added: "I would say respectfully that we would all benefit – and in particular foreign affairs ministers – from opening a history book from time to time."


Source BBC News