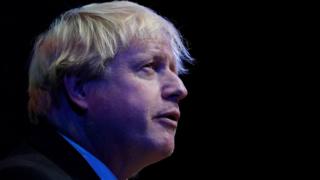 Former Foreign Secretary Boris Johnson made an all-expenses-paid trip to Saudi Arabia costing £14,000, it has been revealed.
He has declared the visit – which was funded by the Saudi foreign ministry – in the register of MPs' interests.
Saudi Arabia has faced global condemnation over the murder of journalist Jamal Khashoggi at its consulate in Istanbul on 2 October.
Mr Johnson's visit took place on 19-21 September.
According to the entry in the register, first reported in The Sun, its purpose was "meeting with regional figures to promote education for women and girls".
Mr Johnson recently wrote about the Khashoggi case in his Daily Telegraph column, describing it as a "barbaric act to which we in Britain refuse to turn a blind eye".


Source BBC News