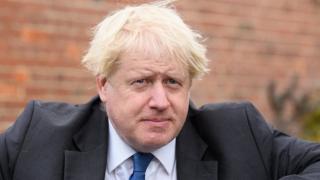 Ex-foreign secretary Boris Johnson is to deliver a wide-ranging speech at the Tory conference, urging the party not to "ape" Labour leader Jeremy Corbyn.
Having resigned from government in July, Mr Johnson's appearance is limited to one day at a fringe event.
He will touch on housebuilding, law and order and tax cuts – areas for which he never had ministerial responsibility.
Party chairman Brandon Lewis brushed off claims Mr Johnson's alternative agenda sought to undermine Theresa May.
"It's always dangerous getting into hypotheticals about what people may or may not say in the future, even if it's just later on today," he said.
Mr Johnson has been a vocal critic of the prime minister's Brexit plan since leaving the Cabinet, calling it "a moral and intellectual humiliation" when setting out an alternative last week.
Ahead of his conference appearance, he was pictured out jogging, in what some interpreted as a "parody" of Mrs May's claim that the "naughtiest" thing she did as a child was to run through a field of wheat.
When asked before the fringe event how she had been getting on with Mr Johnson, the prime minister laughed and told BBC One's Breakfast: "Well, I'm sure that's going to be a very lively event."
Questioned again later on BBC Radio 4's Today about how she felt that her former colleague appeared to be mocking her, she replied: "What I feel is that I, and this government, and this party, are getting on with the important job… of getting a good deal for the United Kingdom when we leave the European Union."
Mr Johnson will use his lunchtime speech to activists at a fringe event organised by the Conservative Home website to urge the party to take "basic conservative ideas and fit them to the problems of today".
During the conference, some Labour MPs have accused the Conservatives of "copying" policies, such as a plan to ban employers, including restaurants, from making deductions from staff tips.
Mr Johnson will say: "We must on no account follow Corbyn, and start to treat capitalism as a kind of boo word."
Referring to the Labour leader's conference speech last week, he will add: "It was astonishing that he (Corbyn) had absolutely nothing to say about the wealth creating sector of the economy – the people who get up at the crack of dawn to prepare their shops, the grafters and the grifters, the innovators, the entrepreneurs – he didn't mention any successes."
Mr Johnson's attitude towards business – he was reported to have used the f-word in response to their Brexit concerns – was criticised by Sir Digby Jones, former boss of lobby group the CBI, at the weekend.


Source BBC News