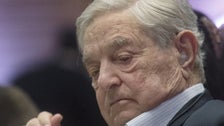 12:30 a.m.
The FBI and local police responded to an address near the home of philanthropist George Soros after an object that appeared to be an explosive was found in a mailbox.
The Bedford Police Department said it responded to the address in the hamlet of Katonah at 3:45 p.m. Monday after an employee of the residence opened the package.
The person placed the package in a wooded area and called police, who alerted the FBI and the Bureau of Alcohol, Firearms and Explosives.
Bedford police said the FBI's terrorism task force was investigating.
The FBI's New York field office said on Twitter that it was "conducting an investigation at and around a residence in Bedford, NY. There is no threat to public safety, and we have no further comment at this time."
A message emailed to Soros' foundation wasn't immediately returned.




Source HuffPost