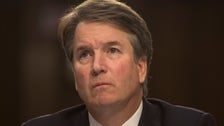 Christine Blasey Ford, a professor at Palo Alto University in California, told The Washington Post that she had feared Kavanaugh "might inadvertently kill" her as he held her down and groped her while they were both high school students around 1982.
Ford alleges another teenager watched as a drunken Kavanaugh attempted to remove her clothing at a gathering in suburban Maryland. She tried to scream, but Kavanaugh covered her mouth to silence her, she told the Post. She said she escaped after Kavanaugh's friend entered the room and jumped on top of both of them.
"I think it derailed me substantially for four or five years," Ford told the Post of the alleged assault. She described the incident as a "rape attempt" during a therapy session in 2012, according to her therapist's notes obtained by the Post.
Kavanaugh has denied any wrongdoing.
"I categorically and unequivocally deny this allegation," Kavanaugh said in a statement last week. "I did not do this back in high school or at any time."
Ford sent the letter to Rep. Anna Eshoo (D-Calif.) and Sen. Dianne Feinstein (D-Calif.) during the summer, after Kavanaugh was nominated, to share her concerns about him.
After weeks of media speculation, Feinstein, a member of the Senate Judiciary Committee, which will decide whether to advance Kavanaugh's nomination to the full Senate, confirmed the existence of the letter on Thursday. She said she referred the matter to the FBI.
Ford told the Post she hadn't wanted to identify herself publicly, but after details of her letter began to leak, she decided she wanted to be the one to tell her story.
A representative for the Senate Judiciary Committee did not immediately respond to a request for comment.
The White House has not withdrawn its support for Kavanaugh in the wake of Ford's allegations.
"We are standing with Judge Kavanaugh's denial," White House principal deputy press secretary Raj Shah said in a statement to Fox News on Sunday.
Following a volatile few days of confirmation hearings for Kavanaugh earlier this month, the Senate Judiciary Committee announced Thursday that it was delaying a vote on whether to advance his nomination until Sept. 20.
This story has been update throughout.
Igor Bobic contributed reporting.




Source HuffPost