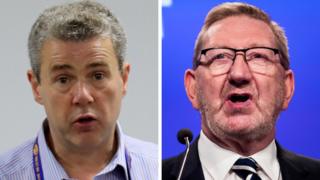 Labour MPs have hit out at union chiefs at a party conference fringe event for their remarks about the anti-Semitism row in the party.
Dame Louise Ellman accused Unite boss Len McCluskey and PCS general secretary Mark Serwotka of trying to "smear the Jewish community" for speaking out.
Ian Austin said Jeremy Corbyn was angrier with those complaining of anti-Semitism than those responsible for it.
Mr Corbyn told the BBC he had opposed anti-Semitism all his life.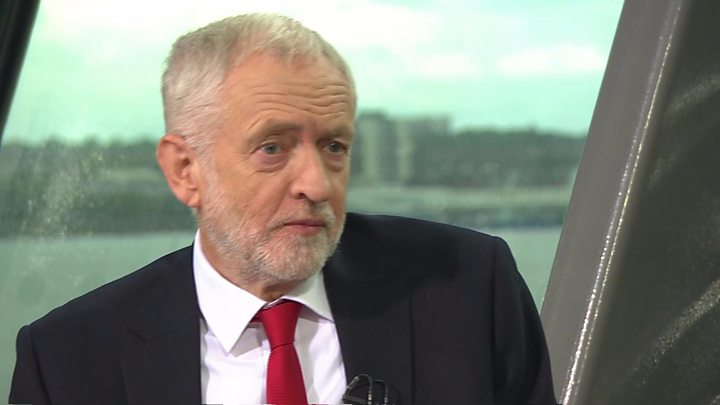 Dame Louise and Mr Austin were among Labour MPs to address the packed fringe event at the Labour Party conference in Liverpool.
Both targeted Mr McCluskey – who recently accused Jewish community leaders of "truculent hostility" towards the party – and Mr Serwotka, who was recorded suggesting that Israel "created" the row.
Mr Serwotka's union said after the recording emerged that he had made the point that society and the Labour movement must oppose anti-Semitism.
Dame Louise, MP for Liverpool Riverside, said: "For major trade union leaders to not only smear the Jewish community and Jewish people for speaking out against anti-Semitism but then trying to blame them for it, I think we are entering into very dangerous waters.
"They are playing with fire and I call on them to withdraw those appalling statements."
Another Labour MP, Wes Streeting, told the rally there were people "who, through their words and their actions, actively create the conditions in which anti-Semitism can be allowed to fester".
"Yes, Len McCluskey, I'm talking about you describing anti-Semitism as mood music.
"And yes, Mark Serwotka, I'm telling you as a general secretary with Jewish members that your remarks the other week at the TUC Congress have no place in the Labour Party and no place in the Labour movement."
'Lies and smears'
Dudley MP Mr Austin said it was "offensive nonsense" that Labour MPs were complaining about anti-Semitism as a way of undermining Mr Corbyn.
He added: "The truth about Jeremy is that he is much angrier with the people complaining about anti-Semitism than he is with the people responsible for it."
He said Mr Corbyn had to "stop thinking he is the victim in all of this and he has got to properly explain and apologise for his role and responsibility in the development of this crisis."
Luciana Berger, parliamentary chairwoman of the Jewish Labour Movement, told the rally: "If you troll Jewish people on Twitter and Facebook, if you share anti-Jewish images – and it's not just on social media – if you also repeat lies and smears against Jewish people, if you talk about 'weaponising' anti-Semitism, if you support Holocaust denial, you are not Labour. You are not welcome."
Earlier Mr Corbyn was asked by the BBC's Andrew Marr to express personal remorse for his handling of the anti-Semitism row in a TV interview.
He said: "I am an anti-racist and will die an anti-racist. Anti-Semitism is a scourge in any society and I will oppose it all my life."
He said there had been changes under his leadership to improve the way complaints were dealt with adding: "The party must be and is a safe and welcoming place for all communities."
The row over claims of anti-Semitism in the Labour Party has been going on for more than two years. A 2016 inquiry concluded that while the party was not overrun by anti-Semitism, there was an "occasionally toxic atmosphere".
But over the summer Mr Corbyn faced criticism after a 2013 video emerged in which he said a group of British Zionists had "no sense of English irony".
He also came under fire over his presence at a ceremony in Tunisia in 2014, which was said to have honoured the perpetrators of the 1972 Munich terror attack.
Earlier in the year, he was criticised for sending an apparently supportive message to the creator of an allegedly anti-Semitic mural in 2012.
Questioned about the controversy, as the Labour Party conference gets going in Liverpool, Mr Corbyn admitted that the street mural "shouldn't have been put up" and he had been "hasty in my judgement on that".
He has previously admitted he had not looked at it properly before raising concerns about plans to paint over it.
'Beyond excessive'
On the remarks about a group of British Zionists in 2013, Mr Corbyn said he had been referring to two people at the meeting who had been "disruptive" and had been trying to defend Palestinian ambassador Manuel Hassassian.
"It was not intended to be anti-Semitic in any way and I have no intention and have absolutely opposition in every way to anti-Semitism because I can see where it leads to," he said.
He also defended his appearance at the Tunisia ceremony saying he was there to mark the death of "civilians and children" in an Israeli air raid.
In September, after a long-running row, Labour adopted in full the International Holocaust Remembrance Alliance's definition of anti-Semitism and its accompanying examples. The party included an extra statement saying this should not undermine free speech on Israel.
Mr Corbyn said it was "right that people should discuss the establishment of the state of Israel but recognise the existence of the state of Israel and not prevent that kind of debate".


Source BBC News