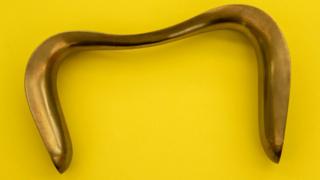 A new exhibition by the Royal College of Nursing showcases a series of strange, sometimes disturbing objects used in women's healthcare.
From pink pills to help women with so-called hysteria, to vaginal douches to keep them "clean", the historical displays show how gynaecology has often been dominated by superstition and ignorance.
Marvel Whirling Spray vaginal douche, circa 1900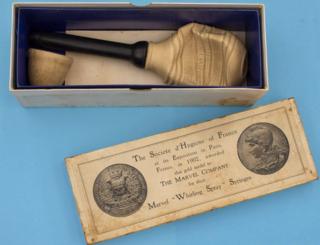 In the early 19th century, vaginal douching was popular. Douching is the flushing of water, sometimes containing antiseptics, fragrances and vinegar, upwards into the vagina.
This primitive-looking object came with a booklet of advice in which the author suggests that women who are married might like to douche more often.
It states that douching is important and ignorance of its use leads to "misery, woe and utter despair".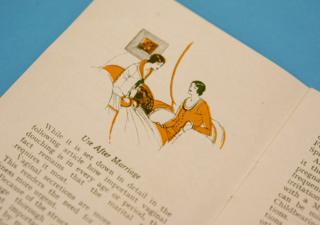 Douching is now considered to be dangerous. Doctors say flushing water up into the vagina can disrupt the natural bacteria and cause irritation, infections and STIs.
Current advice is to use plain, non-perfumed soaps to wash the vagina, rather than flushing water into it.
Even so, the practice is still relatively common in the US.
Dr Tracey Loughran, of the University of Essex, who is leading a project into women's health for the Wellcome Trust said: "Douching is presented as outdated, but it is still common and suggests an ongoing sense of shame and stigma around women's bodies."
Dr Williams's Pink Pills, 1850-1920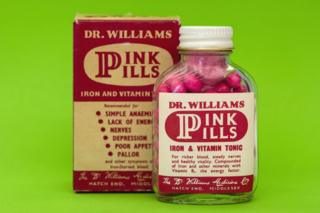 These were advertised as an iron-rich tonic for the blood, and claimed to be a miracle cure for a variety of ailments, including anaemia, hysteria and "change of life".
Thankfully the concept of hysteria has been thoroughly debunked, but in Victorian times it was a catch-all term for what was considered an exclusively female disease caused by the womb.
Symptoms were thought to include "women's problems" like nervousness, hallucinations and even emotional outbursts. Women going through menopause were thought to be emotionally unstable.
Sanitary napkins, 19th Century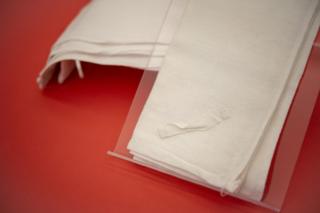 Before disposable sanitary pads were invented, most women used reusable "napkins" or rags, hence the term rag-week. These sanitary napkins were unwieldy nappy-style items with hooks to attach to underwear and clothing. The product was deemed too embarrassing to be advertised, so coupons were made to hand to a cashier. In the exhibition, they sit alongside sleek modern tampons.
Says Dr Loughran: "In the 1930s, there are descriptions of girls being in agony using washable rags that were very hard so would chafe against their legs.
"The situation is much better now, although the issue now is one of period poverty as many women can't afford sanitary products."
The words of Aristotle the famous philosopher, 1855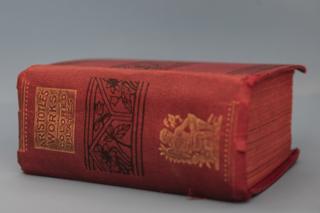 The dust jacket of this book disguises its content of health advice for women, which covers uterine drops, labour and "testicles" in women.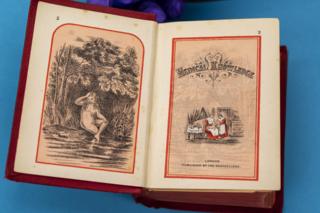 Nowadays, there's far less stigma around women's health issues, with organisations such as Girlguiding UK encouraging girls to talk about periods and end any sense of shame.
Specula, from the 19th and 20th Century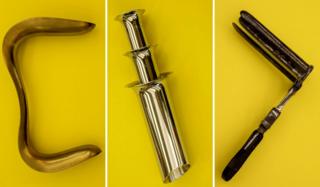 A speculum is the tool used to hold the vaginal walls open for procedures such as cervical smears. Specula like these scary-looking implements began to emerge in the 19th Century.
Nowadays, the modern equivalent is often plastic and disposable. But according to figures for April this year, cervical screening attendance was at its lowest rate in 19 years.
Iron amulet (circa 19th Century) and eagle stone (18th Century)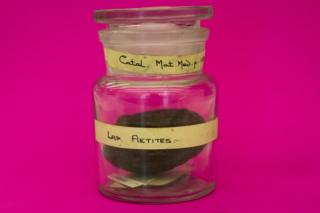 Miscarriage was long misunderstood and considered to be the fault of the woman.
In the 18th Century, this eagle stone was tied to the thigh in labour to "facilitate birth" and tied to the arm to "hinder miscarriage".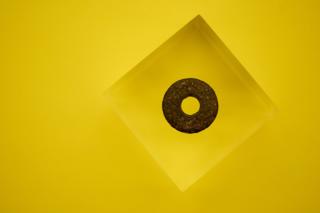 Wearing an iron amulet was believed to protect a pregnant woman from complications during pregnancy and birth, including miscarriage.
Radical Nurses Group newsletter, 1988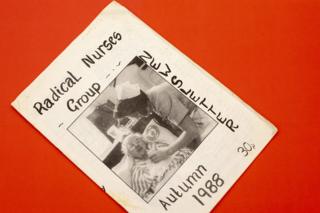 Because nursing has been a female-dominated career throughout history, it has been the place where battles around women's health were fought.
This newsletter outlines a campaign by nurses to save the Elizabeth Garrett Anderson Hospital as a service run by women for women.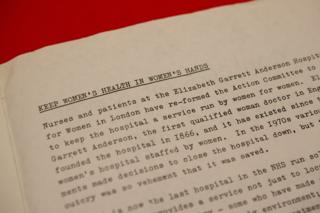 The Wondering Womb exhibition is part of a growing movement aimed at normalising women's health and reproductive experiences.
Dr Tracey Loughran said: "Ten or 15 years ago, if you heard about the menopause, it was all about HRT health scares or women going mad, now there are efforts to reclaim it as a positive experience."
"We've had the first sanitary advert which uses red dye instead of the common coy blue.
"And there was the three-dimensional model of the clitoris. I was very struck by that, it's amazing how many women don't have a sense of their own body."
Debra Holloway, chairwoman of the Royal College of Nursing's Women's Health Forum, said the exhibition showcased the importance of the role nurses have had throughout history in challenging assumptions about women's health.
"Myths and misconceptions about women's bodies remain widespread and in a field previously dominated by the perspectives of male doctors and physicians, all nurses now have a responsibility to advocate for women today."
All photographs by Phil Coomes.
With thanks to Science Museum Group Collection / The Board of Trustees of the Science Museum, Royal Pharmaceutical Society, RCN Library and Archive, Royal College of Obstetricians and Gynaecologists for permission to photograph the objects in the exhibition The Wandering Womb on show at the RCN.


Source BBC News