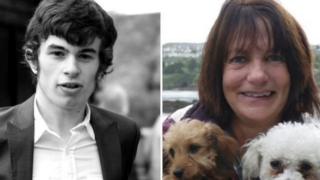 Inspectors have found improvements at an NHS trust that failed to investigate hundreds of unexplained deaths but said "there is still more to do".
The Care Quality Commission (CQC) rated Southern Health "good" for services being caring, but said overall it still "requires improvement".
A report commissioned in 2013 after the death of 18-year-old Connor Sparrowhawk found serious failings at the trust.
It said over four years 272 unexplained deaths were not properly investigated.
Southern Health, which provides services in Hampshire, was fined £2m after failing both Mr Sparrowhawk and Teresa Colvin, 45, who died in 2012.
It also pleaded guilty to failing to provide safe care and treatment after a patient fell from a roof in 2015.
Former chief executive Katrina Percy resigned in 2016, followed by the trust's previous board of directors.
In June the CQC issued the trust a warning notice because of concerns there were not always enough staff on child and adolescent mental health wards to keep patients safe.
But it said this was withdrawn after a second unannounced visit in July, when inspectors found it had addressed their concerns.
Karen Bennett-Wilson, the regulator's head of hospital inspection in the south, said the trust had made "encouraging" improvements.
She said: "There is still more to do – especially where we found there were not enough staff to meet patients' needs.
"The new leadership team has a clear vision and strategy.
"Staff morale has improved with teams reporting a significant change in the culture and a greater sense of optimism than we have seen in the past.
"Frontline staff that we met felt positive and proud of their work and felt the trust was heading in the right direction."
Trust chief executive Dr Nick Broughton said the improvements were tribute to "the diligence and compassion of our staff".
He added: "Whilst today's report gives real cause for optimism, clearly we have more work to do.
"Particularly in relation to our staffing levels and ensuring we have enough trained staff to best support the people we care for."
Southern Health timeline
26 April 2012 – Teresa Colvin dies at Southampton General Hospital after she was found unconscious at Woodhaven Adult Mental Health Hospital
July 2013 – Connor Sparrowhawk, 18, drowns after an epileptic seizure at Oxford unit Slade House. An inquest later rules neglect contributed to his death
10 December 2015 – The BBC reveals details of a leaked independent report into the trust, produced by Mazars, which highlights a "failure of leadership"
17 December 2015 – The report is officially published and shows out of 722 unexpected deaths over four years, only 272 were properly investigated
29 April 2016 – A full CQC inspection report is published that says the trust is continuing to put patients at risk
30 June 2016 – Following a review of the management team competencies, it is announced the trust's boss Katrina Percy is to keep her job
29 July 2016 – The BBC reveals the trust paid millions of pounds in contracts to companies owned by previous associates of Ms Percy
7 October 2016 – Ms Percy resigns completely from the trust
13 December 2016 – A CQC report, the culmination of a one-year inquiry, says investigations into patient deaths are inadequate
19 August 2017 – A medical tribunal finds a doctor failed to carry out risk assessments for Connor Sparrowhawk
12 September 2017 – The trust announces Dr Nick Broughton, leader of Somerset Partnership NHS Foundation Trust, will take up Southern Health's chief executive role
18 September 2017 – The trust admits breaching health and safety law in the case of Connor Sparrowhawk
20 November 2017 – The trust admits breaching health and safety law in the case of Theresa Colvin
12 June 2018 – NHS Improvement said an independent review carried out in 2017 found "encouraging progress"


Source BBC News