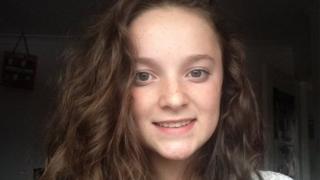 A takeaway restaurant whose food caused a fatal allergic reaction in a girl was "a disaster waiting to happen", a jury was told.
Megan Lee, who had a nut allergy, died on 1 January 2017 from acute asthma brought on by food from the Royal Spice Takeaway in Hyndburn, Lancashire.
Five days later, health inspectors found a "litany of failings" at the outlet, Manchester Crown Court heard.
Takeaway owner Mohammed Kuddus and co-accused Harun Rashid deny manslaughter.
Prosecutor Peter Wright QC told the court that when environmental health officers closed down the takeaway shortly after the 15-year-old's death, they found uncovered food containers, dirty pans, a freezer containing unlabelled meat and mouse droppings.
The court heard the inspectors also found staff paid "no or little regard" to allergy warnings on jars of paste, some of which were used to make a seekh kebab that Megan ate.
'Owed duty of care'
Addressing the jury, Mr Wright said Megan's death was "the altogether too predictable consequence of the conduct of these two men".
"They each owed a duty of care to the public to take reasonable steps to ensure customer safety and… not to provide food that was harmful to customers with a food allergy," he said.
"The state of affairs that existed… at the Royal Spice Takeaway was nothing short of a disaster waiting to happen – one to which these defendants had given little or no thought."
The jury later heard from Megan's mum Gemma, who said her daughter had been sharing the meal at a friend's house when she had an "immediate reaction".
She had then finished the meal after taking antihistamine medication.
When Mrs Lee took her home, she said the only signs of discomfort had been a rash on her cheek.
"The signs were nothing that I had not seen before," she said.
"Megan seemed fine, extremely chatty and… joking about having the reaction."
However, she said her daughter's condition had quickly deteriorated later.
"Her eyes were closed and I tried to look to see if she was breathing," she said.
"Then she gasped and… I realised she was no longer breathing."
Megan was taken to hospital but died two days later, having suffered irreversible brain damage.
Mr Kuddus, 40, of Belper Street, Blackburn, has pleaded guilty to failing to discharge a general duty of employers, contrary to the Health and Safety at Work Act.
He also pleaded guilty to failing to put in place, implement and maintain a permanent procedure or procedures in contravention of European Union food safety regulations.
He also entered guilty pleas to the same offences on behalf of Royal Spice Takeaway Limited, trading as Royal Spice Takeaway.
His co-defendant, fellow Bangladeshi national Mr Rashid, 38, of Rudd Street, Haslingden, has pleaded not guilty to those charges.
The trial continues.


Source BBC News