Kanye West has donated $73,540 (around £56,000) to a woman who is running to be mayor of his home city of Chicago.
Amara Enyia is running for office in February 2019 – and has also had the backing of Chance the Rapper.
The money is the exact amount she needed to pay off a debt owed to the Illinois State Board of Elections from her previous mayoral bid in 2015.
In a statement, Ms Enyia's campaign team thanked Kanye for his "generous action".
His donation comes 11 days after he met US President Donald Trump at the White House.
The pair discussed prison reform and other political issues over lunch.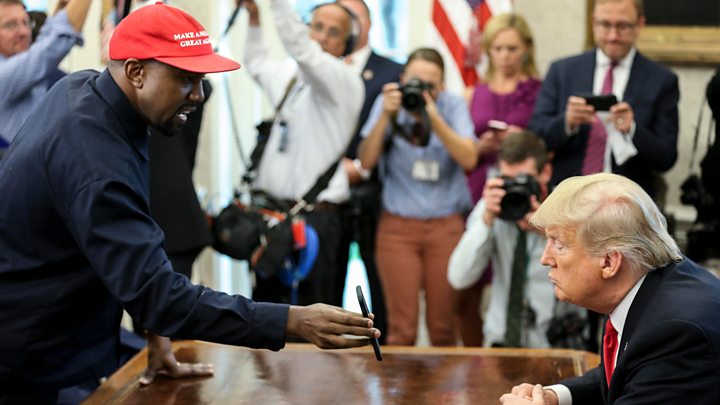 Ms Enyia says her goal as mayor is to "help communities – especially challenged communities – unlock their civic imagination".
She wants to create a public bank in Chicago which she claims will "reduce corruption" and "promote economic growth".
Other policies include investing in public neighbourhood schools and creating safe spaces for community building.
Her bid has won the backing of Chicago native Chance the Rapper – who came out in support of her last Tuesday.
"I want to work with somebody that's about change, somebody that's about our community, somebody that's about equity, somebody that's about fairness," he said.
There was speculation that Chance would run for mayor himself but he said he wouldn't be putting his name forward.
He has also recently addressed Kanye's outspoken views.
Speaking on the Joe Budden podcast, Chance said that Kanye "thinks about himself like 300 years in the future and how people will read things" and is "trying to create a bigger blip on the long timeline" with his art.
The Chicago mayoral election will take place in February 2019.
According to the Chicago Sun Times, at least 17 candidates have already announced they're running for the position.
Follow Newsbeat on Instagram, Facebook and Twitter.
Listen to Newsbeat live at 12:45 and 17:45 every weekday on BBC Radio 1 and 1Xtra – if you miss us you can listen back here.




Source BBC News