Sara Bareilles wasn't afraid to take a stand and make a statement in her new song "Armor." The track, released last week, concerns unity and empowerment, particularity for women during what's been a tumultuous time in our country.
Bareilles told HuffPost the seeds for the song were planted shortly after the 2016 presidential election, with the lyrics evolving over the last year or so.
"The shit hit the fan in a big way and I think it happened for a reason," she said of the political and social climate since President Donald Trump took office. 
In the past year, Bareilles says she's become more in tune to the world around her, which has informed a lot of her songwriting.
"I had just gotten back from the Women's March and I was really inspired to talk about the way it feels to be a woman in a world — when we're feeling compression," she said. "It just really became about sisterhood, and I mean that in the most general sense."
"I'm very purposeful," she went on. "There's a line where I say, 'To all my sisters and all our friends.' This is not about exclusively being a woman, because I really believe that there are incredible men and everything in between ― and that we all commit to being a community and being each other's strength and to being each other's armor in times of need."
HuffPost caught up with Bareilles to hear more of her thoughts.
What sparked you to release the song earlier than expected?
It wasn't really meant to be released till early next year, but I was really hurt and moved by the [Brett] Kavanaugh hearings, and so my whole team responded ― I'm grateful to them for making a pivot ― and we decided to release this song now. I'm hopeful. It feels like a source of comfort, and I know that my community has been incredible for that for me. I have my armor with my friends and family in such a big way. That's really the message of the song. It's about sisterhood and community.
What do you hope listeners take away from "Armor"?
That these dynamics exist and that they haven't really been examined in a long time. I'm so guilty of this in my own life. So many people I know have gone through this wild awakening in the last couple of years, and it's been really uncomfortable and really challenging in so many ways. But I think what's powerful and exciting about it is that we are really at a time where we can be conscious enough to examine what's going on. It's clumsy at times, and we're going to make mistakes and pull back too much… but what's beautiful is that we can really take a look in a deep way at the patterns that exist and whether or not they really serve us as a whole anymore.
I think at this moment in time it's our jobs as humans to just take a brief moment and examine: Does this serve us anymore? Is it healthy? Is it good for everybody? That's what I hope that the song stirs in people: that women and young girls especially can take this in and take a minute and take an extra look.
You mentioned some frustration with the way things are going right now, but I also sense some hope. 
I'm incredibly hopeful, and I say that with exclamation points. And I haven't always felt that way. The galvanized community of good people who are stepping up and running for office for the first time, who are fundraising for the first time, who are voting for the first time… There are a lot of really incredible leaders who are stepping up, like Andrew Gillum and Stacey Abrams and Heidi Heitkamp. Good people — men and women — who are leaders I'm excited about and looking to help guide us through this really tumultuous time… We had to take a deeper look at a lot of the stuff that was coming to the surface. It's uncomfortable. Nobody fucking wants to do it. But that's what we're here doing, and I refuse to succumb to this idea that it just gets worse. 
Do you ever worry that speaking about political issues or singing about politics will alienate your audience?
A thousand percent. I worry about it all the time. But my fear of that is not a good enough reason not to say what I really believe and what I really feel in my heart. This is what I stay up at night thinking about. So I have to share it. And I will never ever agree with that idea that artists should shut up and sing. I just think it's ancient. I was talking with my boyfriend [Joe Tippett] about it the other night, and he was like, "Why do people say this?"… We're all just people, and we all have opinions about the world, and it's important to have discussions about it. But I certainly have my own set of insecurities about revealing the fact that I have political opinions.
I know that it is alienating for certain people. We're not going to agree on everything. But that doesn't mean that we have to be at an impasse. You don't have to drink each other's Kool-Aid on everybody's issues. We're all human beings and we can find common ground. I have songs on my record that are about the lighter side of life. It's not just one thing or another. Life is nuanced. People are nuanced. So I think that right now in my life, it felt like the right choice for me to make a political statement. But I have no judgment against artists that aren't feeling that in this moment either.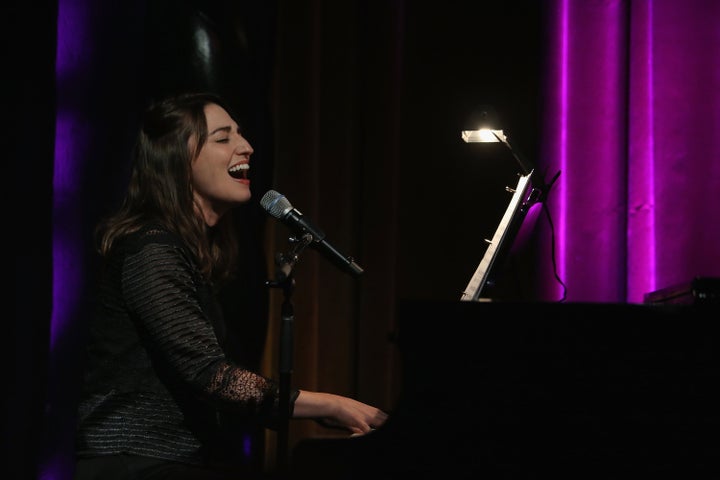 You recently completed your newest album with producer T Bone Burnett. What can we expect from the rest of the album?
I think the thing that T Bone invited out of me as an artist was a sense of simplicity and intensity. There's maybe more ballads on this record than on my last record. He's like, "It has nothing to do with tempo. A song is interesting based on how intense it is." It was me having to push through some of my old wiring about being a pop artist, to be frank. Like how many bops do I have to get on this record to have people be happy and bounce around? I really feel like right now in my heart and soul as an artist, I don't feel like dancing around. I feel like talking about what's really on my mind, and so these songs are doing that.
Some of them are love songs. And some of them are songs about [Barack] Obama and where did you go? It's kind of a mishmosh. There's a little bit of everything on there. It's not exclusively a political record. It's a reflection of who I am. It's me trying to live my life in spite of what the world feels like right now.
Congrats on all the success from "Waitress." I'm sure it was a labor of love to take on writing a Broadway musical. Would you dare do something like that again?
In a heartbeat. I loved it so much. What I will say is, now that I know about the time and energy it takes to create, I just have to be careful about when I enter into that next project. And then of course, it becomes about finding the right material. But I didn't know "Waitress" was going to take over my life, and I'm thrilled that it did. It was the greatest transformative project that I could have ever dreamed up. I had no idea that I was going to fall in love in this deep of a way. So, yeah, I would absolutely write another musical. It would just have to be the right thing.




Source HuffPost