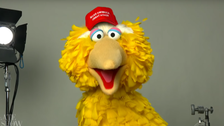 Actor and puppeteer Caroll Spinney is leaving his post as Big Bird after playing the role for nearly 50 years. That certainly leaves a sizable hole in the heart of "Sesame Street." But who can possibly Spinney's very big and oddly shaped shoes?
On Friday's "Late Show With Stephen Colbert," some famous would-be replacements auditioned to take over for our big feathered friend. Supreme Court Justice Brett Kavanaugh brings up beer a lot during his tryout, Infowars host Alex Jones rants about conspiracy theories, and rapper Kanye West uses his time to talk about… well, Kanye West.
See the whole clip above.




Source HuffPost