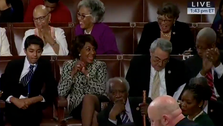 Rep. Maxine Waters (D-Calif.) voted for the new speaker of the House, Nancy Pelosi, with bravado on Thursday, shouting, "Reclaiming my time!"
The move by a smiling Waters was met with shouts and applause from many other members of Congress.
As they are wont to do, people on Twitter had a lot to say about the moment:
Maxine Waters really just said "reclaiming my time" before her speaker vote… Icon.

— Josh (@joshi_xcx) January 3, 2019
Asking the secretary about an unanswered letter during a House Financial Services Committee hearing that year, Waters refused to allow him to waste any of her allotted time. Every single time Mnuchin did not directly answer her questions, she repeated, "Reclaiming my time." 
The phrase quickly became a meme, resulting in laughter from some …
… and vitriol from others.




Source HuffPost