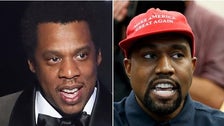 West may have distanced himself from politics in recent weeks, after causing controversy with his unflinching support of President Donald Trump. But that didn't stop Jay-Z from addressing the thorny issue with his guest spot on a track on Meek Mill's new album "Championships."
In the song "What's Free," that also features Rick Ross, Jay-Z raps: 
"No red hat, don't Michael and Prince me and Ye,

They separate you when you got Michael and Prince's DNA,

I ain't one of these house n****s you bought,

My house like a resort, my house bigger than yours,

My spo― c'mon, man—my route better of course…"
Check out Jay-Z's verses from the 3 minute 40 second mark below:
It's Mill's first album since his April release from prison following a probation violation. In May, he pulled out of an event in which he was slated to talk with Trump about prison reform.
"Unfortunately, the focus turned to the President and myself which concerned me that it might take away from creating a positive result from today's discussions," he said at the time. "As a result, I decided not to attend so that the focus would be solely on fixing our prison system. Most importantly I remain fully committed to improving our criminal justice system."




Source HuffPost