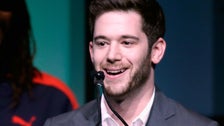 Colin Kroll, the co-founder of the widely popular game HQ Trivia, has been found dead in a New York City apartment, according to reports.
The 35-year-old, who also co-founded the now defunct video platform Vine, was found by police in his Manhattan apartment's bedroom early Sunday morning after his girlfriend requested a welfare check, TMZ first reported.
According to several news outlets, citing law enforcement sources, drug paraphernalia was found nearby in the room.
Kroll co-founded the popular app HQ Trivia with Rus Yusupov and was named CEO in September. The game invites users to participate in live trivia rounds with prize money.
He also worked for Twitter as an adviser, according to his LinkedIn profile. He was fired from the online platform in 2014 for allegedly being a "bad manager." Female colleagues said his behavior made them feel uncomfortable, Recode reported last year, citing former colleagues. No sexual harassment complaints were filed about Kroll at Twitter.
Hayley Miller contributed reporting.
This is a developing story. Please check back for updates.




Source HuffPost